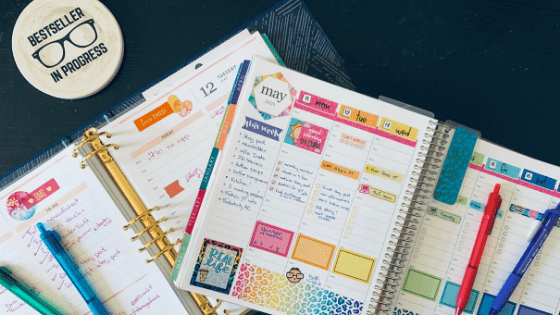 3 Reasons Why I Love Using A Paper Planner in 2020
I keep seeing this one particular meme going around about the silliest purchase of the year is a 2020 planner. And I have to say that I totally disagree with this sentiment. I love my planner. In fact, I have two!  Okay, I actually have three planners and a few notebooks that I use, but today I'm going to talk about two from my large stack of organizational fun – my weekly Erin Condren life planner and my Erin Condren daily binder pages. And no, this post is not sponsored (I wish!) – Erin Condren just happens to be my planner of choice.
For me…there are three main reasons why I love using a paper planner over digital options only.
It keeps me on track
I have a section in the front of my weekly planner that has my quarterly goals, another section for monthly and weekly task lists, and then, of course, my overall schedule telling me when my son has google hangout sessions for school and appointments with my VA clients for me. My daily planner is where I list everything that needs to happen each day and its way messier than my weekly planner – it's the workhorse that gets crossed up, notes taken and things moved around.
These things keep me moving forward on my goals, on task for work and writing projects and help me make sure I have time for fun & hobbies AND make sure we log on for all the things we have to attend. I know at a glance what's coming up today, what's coming up tomorrow, and even big items for the following few months. It gives me a sense of calm. I know – in a very big picture way – what's happening and when.
It's FUN!
Stickers have been a part of my life since I was a little girl in the 1980s with my giant albums of stickers that I would trade with friends over lunch. I used them to decorate my Trapper Keeper, diaries, and my bulletin board (where I had pictures of Joey Lawrence…because I was cool). I love stickers! I love functional, colorful boxes that help me notice an appointment on the page. I love cute little cartoons with coffee cups or laptops. I just love how bright and cute they are. Laying down stickers on a piece of paper is so much dang fun – it puts a smile on my face and makes me happy…and that's really all I need right now. 
The other thing about paper planners is the online community – the Facebook groups and the Instagram channels – where other planner girls (and some guys!) talk about their planners, how they use them, what sticker companies they love and use. I have gotten some really amazing ideas and have some really great online friendships with these people. I feel like I'm a part of something much bigger than just me and my planner on a Sunday night. 
It's my "Me Time"
Yes, I use planner time as my Jennifer/Mommy alone time. I spend about 25-30 minutes on Sunday night at my desk with my stickers and my digital calendar creating my weekly spread and then each morning and night I check in with my daily schedule for the messy to-do list.  I can listen to music or have it silent, I light a candle sometimes or turn on my salt lamp. I have some decaf tea or hot chocolate and I spend some time with my planner. I always feel so much better when I have that time, too. I feel ready to tackle another week, I feel prepared to face the meetings and the work. AND I'm a happier and a better Mommy when I come back into the living room to play a game or watch a movie.
Knowing I have my schedule organized and my planner all pretty makes me smile and keeps me calm. I don't have to freak out about things because I know it's written down, out of my head and onto the page. I know where things, things are getting tracked and noted. That makes my other "me times" easier – because they are also scheduled into my day. 
Do you use a paper planner or are you all digital all the time?  What do you use as your Me Time for the day/week?