Behind the Scenes: Where I Write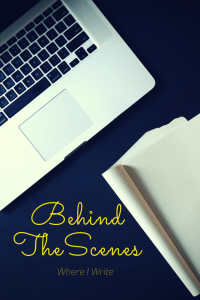 Today I'd like to talk about my desk. It's big and bold and messy. We moved almost a year ago and we are still not set up (I know, I know…but life happens man) but my desk is sort of settled in to. I have a new cork board and white board to go with my cool WRITER picture (thanks, Delia!) – they are just not on the actual wall yet but leaning against the wall. I can still plan, dream, think, smile at, and gets ideas from everything so it's fine….for now.

My desk is in our bedroom. Living in New York comes with many advantages (theatre, museums, restaurants, the public transportation) but space is not one of them when it comes to apartments. Our place is pretty big, actually, but we only have two bedrooms so unless I want to force my cute 5-year-old to sleep on the floor of the living room (although he might secretly love this) for now my desk is in the bedroom. This doesn't actually cause problems since my son is at school and my husband is at work all day and I don't usually work at night during family times. The problem comes from my desk being a flat, relatively clean surface, things get dumped here – school paperwork, iPhones, my son's art, junk mail – the list goes on, so I constantly have to clean it.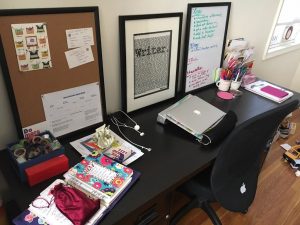 What would solve this problem? Having a dedicated space in the living room for the stuff mentioned above. I'm actually working on this problem, and I think I'm almost done with the drop zone by the door. Also, I need to reorganize the two book shelves that are in the bedroom to better utilize that space so less stuff has to live on my desk. This is my next big apartment project. We really do take forever to move into a place fully – but we adore our apartment overall, it has huge windows and lots of light and it's in a great neighborhood close to my son's elementary school. And it's quiet. Like…eerily quiet. If I have the windows open I can sometimes hear the Long Island Rail Road go by a few blocks away or trucks rumbling down Queens Boulevard, but otherwise – I don't hear much during the day. It's really nice.

My desk is almost settled in, but once I get the book shelves reorganized then I can concentrate on the peripheral areas of my desk, like my cute little plastic bins that hold my washi tape, journal cards, extra index cards, extra pens, etc. Right now they are a major hot mess and I can't find anything without searching through at least three drawers. Ugh! This is a total time waster and the 2nd item on my apartment list to fix and work through. I also want to put more cute stuff on my cork board and once I get everything hung up, I'll see if I have room for other decorations around my desk. I have accumulated quite a few inspirational pictures and sayings so I want a space dedicated to those, like a mini vision board or a motivator corner.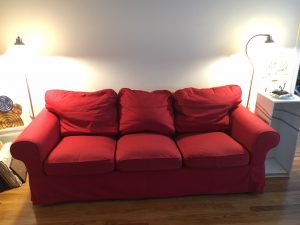 The other place I like to write is in the living room sitting on our bright red couch! This is the joy of owning a laptop – I can take it anywhere, but I usually don't. The living room is where I chill when I'm thinking or planning or daydreaming while writing but also have the TV on watching old reruns of Friends. I have tried writing out of the house, but for some odd reason, I felt very uncomfortable. I think that's just me because most writers I've met go to Starbucks or St. Louis Bread Company (Panera's) and work sometimes….if I do this, I usually like to read or hand write in a journal because I feel odd whipping out my laptop and typing away. Not sure why. I think it's because at home I can control my music, my beverage situation, my food situation, etc. I think it's because I'm a control freak. There, I said, it. HA

So…where do you write or paint or sing? Show me your work space and tell me a little about it…is it perfect, does it need some work? Are you planning on fixing it up or adding things? I'd love to see pictures, so tag me over on Instagram.