Binge Worthy – Drama Edition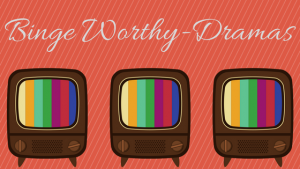 You know I love my Television – I'm a TV girl from way back (in fact, next time I think I'll talk about my favorite childhood shows)!  I've covered my favorites overall and sitcoms…next is the dramas!  I really didn't think I watched too many of these as sitcoms are my jam, but as I listed them out earlier this week (I outline my posts a few days in advance) I realize there are quite a few, due mostly to Netflix.   Here's the list….and again, like always, gifs included – but since these are dramas, they are way more serious than usual – HA!
Stranger Things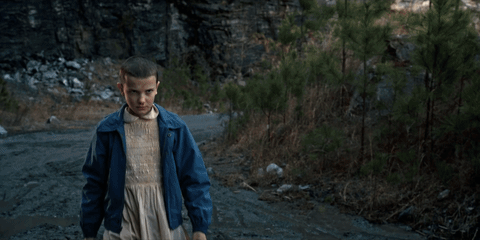 Of course, I'm going to start with that wonderfully nostalgic show that all of my friends are talking about – Stranger Things.  The upside down, the music (both good and bad), the characters – I mean those kids are genius actors, and the scary factor all makes for some fine good TV watching.  We loved both seasons and really enjoyed Behind Stranger Things as well – if you watched the show, check it out on Netflix for some fun cast interviews and behind the scenes stuff.
Jessica Jones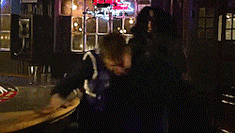 I know I mentioned Marvel shows in my first Binge Worthy post a few months back…but it's because most of them are sooooo good (minus Iron Fist – whoohoo baby did that show blow) so I'm going to list them in my personal preference starting with Jessica Jones.  I adore this show, she's my favorite of The Defenders and I can't wait for Season 2.  It's got humor (although very dry), ass-kicking, day drinking, and an amazing cast of crazy characters – what more could you ask for?
Daredevil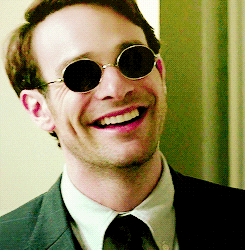 My second favorite of the team.  Season 2 wasn't as good as Season 1 was for me  – only because I felt The Punisher character was a bit shoe-horned in to get ready for his own series – but I like the ninja/fighting stuff, the blind superhero with enhanced other features – the actor playing Daredevil is very good, and I kinda dig his bromance with Froggy in the first season.
Luke Cage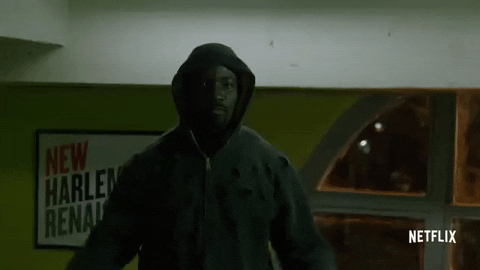 This is where I shall end my Marvel talking because Iron Fist sucked so bad and although we watched The Defenders, I kinda like the original series of each character better than the mishmash – but I will most likely watch Season 2 of Defenders all the same.  Sweet Christmas….this was a complicated set of people. I liked that this series was set in a different part of New York City – a part we don't always see on TV – Harlem…and the music was wonderful. I like Luke Cage as a character because he truly wants to help people, but he also just wants to live his quiet life.  It's very real…if I developed superhero powers overnight I could imagine feeling similarly.
The Crown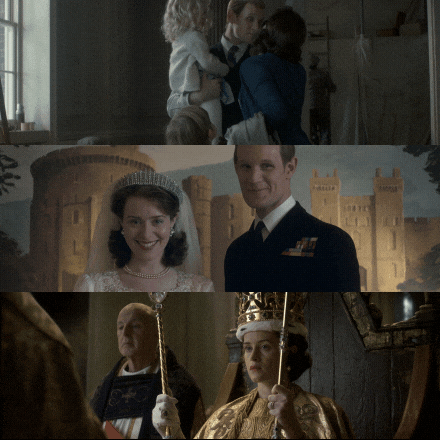 I simply adore the British Royal Family – always have.  My Mom even let me stay up (or stay home from school?) to watch the wedding of Prince Charles and Lady Diana many moons ago and I was in college when she died and I remembering feeling so sad – like I knew these people personally or something.  I also used to know who was next in the line up to the 10th person or something crazy but I don't anymore, so when The Crown came out on Netflix I was all over that like crumpets and scones at High Tea.   If you like the Queen and want to know more about her and the royal family, check it out!
Supernatural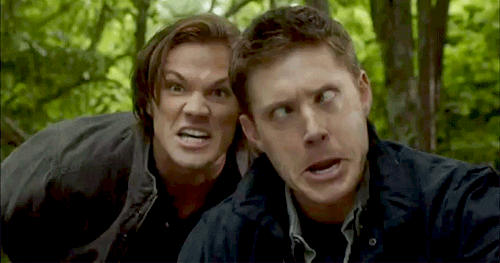 I know I talked about these boys before but it is one of our favorites…although some seasons have been better than others – and there are a LOT of seasons (I think they're on 14 or something now?).  These two brothers have literally been to heaven and hell and back and everywhere in between.  There are ghosts, vampires, werewolves, demons, angels – it's pretty amazing how many things they discuss.  There was even a musical version!  LOVE
Black Mirror
This show both scares the crap out of me and excites me overtime I watch an episode.  It's all about technology and how it's taken over various aspects of our lives – usually to the detriment of society as a whole.  It's very well done, disturbing on so many levels, and one you can NOT binge watch.  Seriously – don't even try it.  Watch one here or there and then sit back and let it wash over you, think about it, obsess over it, then when you finally have your brain back – watch another episode and be freaked out all over again.
And this where I think I will end…we watched a few others, but these were my favorites of the current TV season, as it were.  What dramas are you watching?  What do you think I should check out based on the list above?  Anything I'm missing?  Anything I should watch right away?  Let me know below!