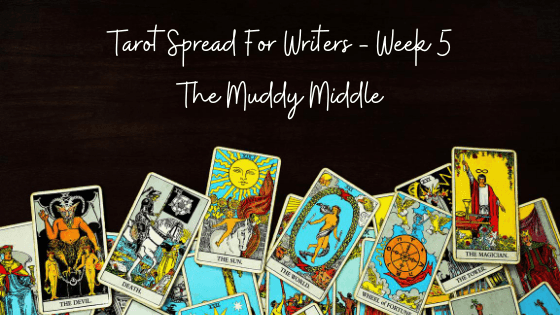 Stuck In The Middle With YOU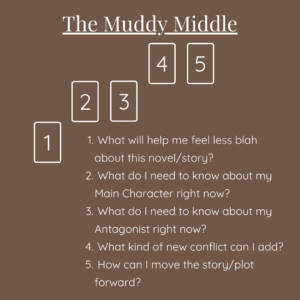 Middles are hard to write, heck even this blog post about Middles and thinking about writing the middle of our short story has me feeling well, kinda icky. I actually came up with some fantastic ideas using this spread and I'm still not 100% feeling the actual writing I did. Who's with me? Show of hands — who hates writing the middle of anything? Or do you find endings harder? Wait until next week baby!
Journaling Prompts
For this spread, I include some journaling questions so you can think about your story or novel before just diving into this spread so I thought I would share.
Is it really a crappy story or are you just bored and need a break?
How far off your original outline or idea are you?
What your Main Character say about your story so far?
Okay, once you get some of that out of your head and down on paper, you'll be ready to do the spread and get some further insight.
The Reading
For us, I feel like Paige has options and she has a choice to make – stay loyal to her Father (who's being a right royal pain) or leave and be with Heidi and start a new life? Since we don't have a traditional Antagonist, I kind of summed this one up by saying that someone needs to face the music, face reality and stop living in dreamland. Which does speak to our overall Karmic force that we're dealing with – it's kind of now or never time.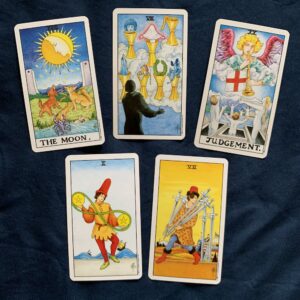 New conflict I can add includes money and time – are we running out of it? Is there a deadline I can add to the story? Deadlines are great, that ticking clock can amp up feelings and the push to make a decision. I also see more of that having to choose and decide which side – family or lover – needs to happen and quick!
To move the overall story forward, I had this idea of Paige betraying her father and telling him that she's going to say Goodbye to Heidi but when she sees Heidi, she abandons that and makes plans to run away. It's a good conflict, and it shows us that Paige isn't thinking with her head but rather her heart – which isn't necessarily a bad thing, but I feel like in this situation is going to lead us to more trouble.
What do you see in the cards? What are you hoping happens for Paige and her Dad? What about Paige's relationship with Heidi? Head on over to Instagram to help me with Titles for our story this weekend and let's talk about Middles and how much they can suck!
The Middle (1st DRAFT)
I walked out of the house and got in the car. As I clicked the button to turn the engine, I thought about what I had just said to Dad. Was I really going to break up with Heidi? Was I really going to say goodbye, forever, never seeing her again? I had made my choice. I backed out of our small driveway and made the quick drive over to her house.
She was sitting on her porch looking up at the moon, waiting for me. She looked happy to see me, she had no idea when I called what I was going to say. She stood up and smiled at me as I pulled into her driveway. I turned the car off and sat there. I could do this, right?
As I got out, she came off the porch and over to me. She lightly kissed me and put her arms around my waist. Oh no, her orange scented perfume wafted into my nose and I could feel myself getting warm, remembering when we were together last.
I pushed her away from me. "I can't do this," I said.
"Do what?"she asked me.
"I need to," I started but her eyes sparkled in the moonlight nad I lost my nerve. "I need to sit down." She led me into the house and I flopped on her couch. She sat next to me and rubbed my arm with her hand. Her skin felt so smooth against mine. I wanted to kiss her nad never stop.
"Are you okay? You sounded funny on the phone," she said.
"No, yes, I don't know."
"Well, then, at least you're sure," she said and laughed. It sounded like music and I just wanted her to keep going, tell her stupid jokes and hear that sound forever.
I shook my head and started to cry. She kissed me again and wiped my tears.
"You were coming to break up weren't you?" she asked. I shook my head yes and closed my eyes tight.
"Don't," she said quietly.
"Okay, I won't," I said back in a whisper.  I knew in that moment that I had nothing else to lose. I had chosen Heidi over my dad and there was no going back. 
Keep Reading — And They Lived Happily Ever After can be found HERE