Binge Worthy – Sitcoms Edition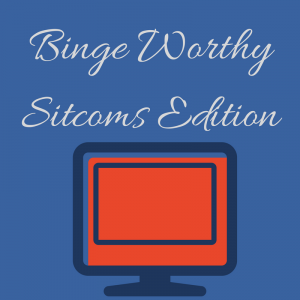 Last time I wrote about television, 
I talked about a hodge podge of various TV shows, mostly new and original series on Hulu or Netflix.
Today I want to concentrate on Sitcoms – seriously, I think sitcoms were my first love.
I grew up watching Punky Brewster, Facts of Life, and Growing Pains.
I own all 10 seasons of Friends on DVD and still watch them on Netflix!
I love that life's problems can be solved in 30 minutes (or less) and that the situations (the sit part of sitcom) are over the top and crazy one second and totally relatable the next.
So…here's the current* sitcoms I'm watching now (again with GIFs because they're fun!).
*Current in this situation really does mean currently on the air right now – later I want to talk about old favorites that have found new homes online.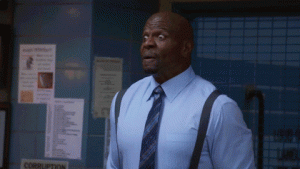 Let's start off with a seriously fun show with a lot of heart.  Brooklyn 99 has one of the most diverse casts I've seen on TV in a long time (in a sitcom, that is – although the next show I'm going to talk about does a really good job of this too).  It's about a police station in Brooklyn, where over the years the cops have become family.  This show took awhile for me to get into – but about half way through the first season I just fell in love.   It helps that I actually do adore Andy Samberg (come on, Dick in a Box….comedy gold!) but the other actors are all phenomenal!    Also, bonus – my celebrity crush, Nathan Fillion, appeared in an episode.  BONUS!!!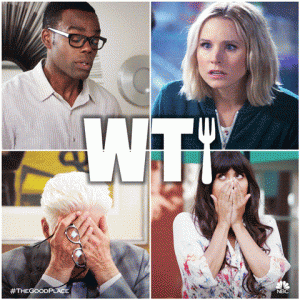 This show is very odd, but sooooo good.  Our hero, played by Kirsten Bell, has died and has gone to the Good Place with Ted Danson as a wise old angel (?) who has designed this neighborhood full of wacky other dead people.  In this good place, people have soul mates and our hero's soul mate is an ethics professor so when she tells him she actually doesn't belong there, hilarity ensues!  Again, an amazing diverse cast with so many layers, that I don't think I could unpack them all here for you.  Also – the gif is funny because in the good place you can't curse, so the F-word comes out Fork…as in What the Fork?  Which is fun to say around my 6 year old.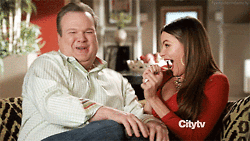 This is an oldie but goodie.  We've watched this family grow up, leave home for college, return home from college (poor Haley) and even have new babies (cute little Joe).  It's totally silly….and some weeks are sillier than others, but I still enjoy watching it every week.  The two from the gif are my favorites – Cam and Gloria – they are hilarious!  This show has two bonuses – one, a woman I went to college with plays Cam's sister from MO, Pameron (What's up Dana!?!) and my man, Nathan was also on this show as a weatherman named Rainer Shine – that's funny right there.  DOUBLE BONUS!!!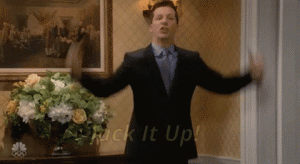 Ah, an old favorite is back.  I did not love the very first episode, it seemed too political, but I get it – that's the world we live in today and some of the stuff needed to be said.  I did enjoy how they just kind of shoved the original series' ending right under the rug so this series made sense.  Jack is still my favorite on this show followed super close by Karen – if the show were called Jack&Karen I would still watch, in fact I might watch it more.  The show and the actors haven't missed much in the 10 or so years its been off the air – they picked right back up.  I felt like they were so in it that they had been living those lives off camera all along.  Two thumbs up for whoever decided to bring the show back.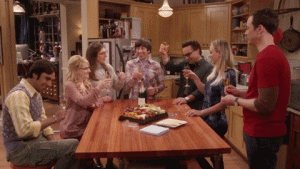 Another oldie, but goodie – this show has been around a long time and some people have issues with the sexiest nature of the guys…but I feel like the characters have grown and learned so much over the years – that they learned how to be better men, how to be good boyfriends and husbands in spite of being totally clueless jerks in the first few seasons.  And I don't think they were being malicious about their issues – they were nerds, nerds who didn't have game back in high school, who had never really dated much, couldn't even talk to women.  And the inclusion of the women on the show has made it even better in my opinion.  You have three very strong, smart (in their own ways) women with careers and goals and ideas of their own.  Also, this show gets a bonus, because – you guessed it – Nathan Fillion played himself on an episode where the guys were debating whether or not to ask him for a picture.  Nerds, super cute!  BONUS!!!!
Bonus Nathan Gif – thank me later!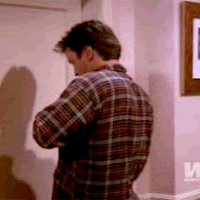 So…what sitcoms are you watching? Am I missing any good ones?
I wasn't sure if I should include South Park on this list (being a cartoon and all) but we do watch that every week as well.
Besides the old favorites post I want to write I'm also planning a Binge Worth – Drama edition where I will talk Stranger Things!!!