Behind the Scenes: My Writing Ritual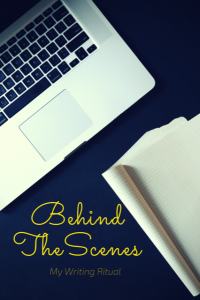 I've been reading lots of publishing and writing business books lately and most of them talk about having a writing routine or ritual for getting in the mood to write.
Basically, a set of things you do before you start writing, and that got me thinking – do I have that?
Currently, I wake up and get my son ready for school, then come back up to our apartment and write my morning pages and mindset, I then exercise, eat breakfast, have coffee, and then I'm ready to start my day and my writing.

If I'm putting down new words I put on music, read through my scene notes or look over my outline cards in Scrivener (my writing program of choice) and start writing.
If I'm revising or editing, then usually it's quiet.

I grab any notes I need, look through the scene I'm working on, read through it and get to work.

If I have lots of day job stuff to get to, I'll put a timer on for my writing sessions, but I like it better when I can just drink my coffee and write until I feel done.

Usually, that's at the end of a scene or chapter in both instances.

Lately, I've been working on revisions for my debut novel and I like to get two chapters done before moving on with my day.

If I'm working on my short stories (which don't really have chapters) then I like to write at least 750-1000 words for the day.
That's it, really.

I've been thinking of adding some other things to this ritual or routine such as candles or my new Essential Oil diffuser, a writing warm-up exercise (although I find these distracting if I'm revising, but might be a good idea for when I'm working on novel #2), or somehow using my writing totem.

I have a Figment figurine from Epcot that I bought many moons ago that sits on my desk and reminds me to keep my imagination front and center, to keep asking questions, and most importantly to have fun with my writing.

But I just look at him, I don't really have any ceremony or ritual with him.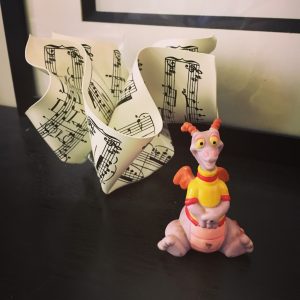 I think the thing that has helped me the most is lately in my mindset practice I've been writing: Words flow easily when I sit down to write.

I make every scene I edit better.

I am a master wordsmith.

I am a wizard with revisions.

These things get into my body and when I sit down to write, I just start to write.

I don't necessarily need a bunch of fanfare to get up and running.
If you're a writer, what do you do to get ready to put words on the page? Do you have a writing routine or ritual?
If you do something else creative, like knit or draw, do you have a warm-up that you do before you start?
How do you start your day?