Writerly Fashion – Fall Edition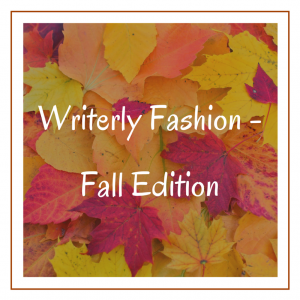 It's fall here in New York City which means pumpkin spice lattes, Thanksgiving, and fuzzy socks! I love fall fashion in general but I especially LOVE fall fashion as a stay at home writer type person. Here are just a few of my favorites and a bonus picture of me right now – today!

Leggings and Yoga Pants

Yes, yes and yes! Leggings as pants are a bit controversial and I would have been on the Nay side just a few years ago, but then I discovered LuLaRoe and soft buttery leggings and now I say Yay! (With the caveat, for me, at least, that my shirt needs to cover my butt). Leggings and Yoga pants are a staple of my everyday wardrobe but especially in the fall. Yes, I have jeans. Yes, I wear jeans if I'm going out and about, but if I'm sitting on my couch or in my chair all day writing and working (Virtual Assistant to the rescue!) then I'm going to be comfy. Step #1 for me is always comfort. Then color, then style.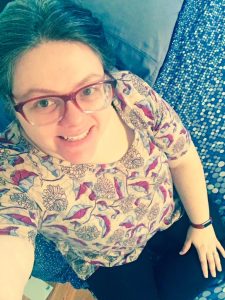 Tee Shirts and Tunics

Next on the hit parade is soft, colorful tee shirts and long tunics. Nothing better than throwing on leggings with a tunic – easy breast cover girl! Or a bright red tee shirt with black yoga pants – yes, please! I feel pulled together and comfortable (remember step #1 from above?). I don't have too many shirts with sayings on them, although I do have a Muppets Tee shirt I like to wear, I do have quite a few patterned tunics from LuLaRoe that I like to wear with my solid color leggings. I feel a bit like Punky Brewster and that's all good with me.

Hoodies, Flannel, and Cardigans…oh my!

I am usually pretty warm (unlike my Mom who's always cold) but there are days when the chill in the air is even too much for me and that's when a 2nd layer comes in handy. I have a few cardigans, one hoodie that I love, and a big black and white flannel shirt that are my go-to's when I get cold. I also have a white snow leopard print blanket that comes in handy if I'm sitting in one place and just need to throw something over my legs and/or feet.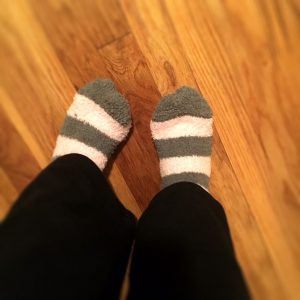 Fuzzy Socks

I saved the best for last, I think. Fuzzy socks are amazing. They are soft, comfy, cute, and warm. I recently bought a bunch more off Amazon because I had a feeling this fall and winter were going to be all about the fuzzy socks for me and so far, I've been right. Right after a shower (I like to do mine at night) I put on some lotion and wrap my toes up in a foot sweater and bam, instant comfort. It's like a hug for your feet! Okay, that was silly, but seriously – fuzzy socks are the best!

So, what is your favorite fashion item for the Fall? Leather? Velvet? Cashmere? If you are just chilling or working from home, what do you like to wear? The one thing missing from my wardrobe right now is a pair of flannel type pjs – you know the old kind with a top and bottom – but I have a hard time finding pants long enough for my 5 foot 10 inch frame but this year I might look again. Happy Fall everyone!